ANTASENA+ REGULATORY REPORTING
The increase in demands for regulatory compliance has become a major challenge for banks around the world. There has never been a better time to deal with the problem by implementing Cygnet's ANTASENA+ regulatory report automation solution.
ANTASENA+ supports full Bank Indonesia computation and reporting requirement and is permanently and automatically maintained to these requirements as they change—making ANTASENA+ the ideal solution for automated regulatory reporting. Implement the international standard for Bank Indonesia reporting with a future-proofed guarantee of compliance.
Whether a company possesses an integrated or disparate information system, there is a lot of data being recorded every day. This data is put to good use in reports that managers use every day to evaluate performance or make decisions. To allow a 360° view of the situation, however, multiple report formats representing different points of view must be created for the same set of data.
KEY HIGHLIGHTS OF ANTASENA+ PRODUCT
Able to compute and generate all required report
Full audit trails, variance analysis, recon between GL versus transactions, and drilldowns for transparency
Maker-Checker and customizable workflow
Report versioning
Full process automation
All returns on screen, validated, cross-validated
Electronic output to Bank Indonesia in required formats (txt, csv, xml, xbrl)
Full trading book computations with wide-ranging coverage of treatments and instruments
Daily, monthly and the full reporting calendar supported
All returns on screen, validated and cross-validated
Built on modern platform
Fully maintained with the latest requirements as they change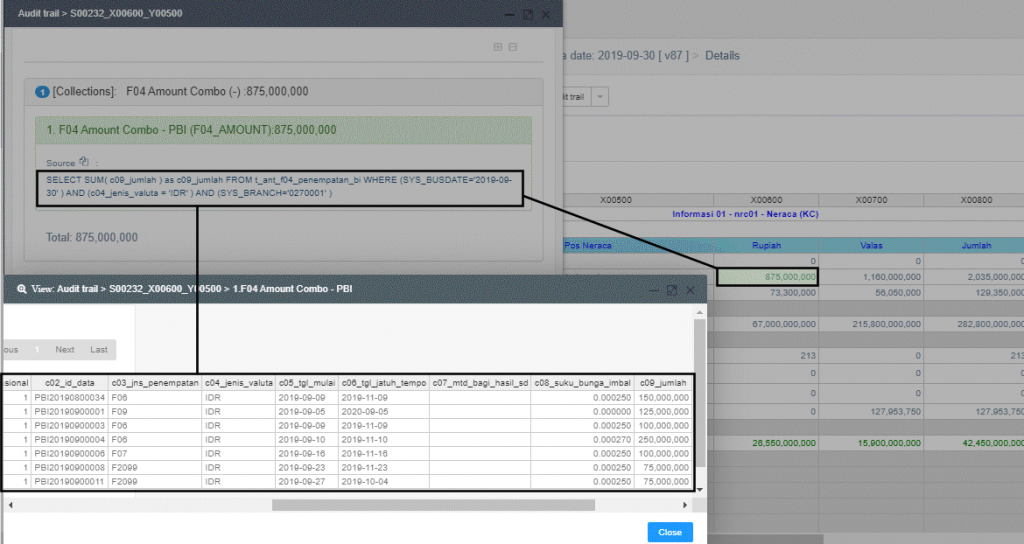 FUTURE-PROOFED AUTOMATION STRATEGY
Having a regulatory automation solution that will support you now and in the future is vital: this is what ANTASENA+ provides. The pace of change and rise in demands on compliance is not going to let up. Furthermore, senior executive management information requirements which are able to demonstrate corporate governance and facilitate improved strategic management oversight will be ever more valuable.
START NOW!
Implement an automated solution for your current regulatory requirements which will be upgraded and guaranteed to deliver the requirements whatever the Bank Indonesia may change in the future
ACHIEVE COMPLIANCE! 
Achieve Compliance with the changing electronic submission formats at almost zero cost to yourselves
SOFTWARE UPGRADES ARE GUARANTEED!
All the necessary upgrades will be inclusive in the ANTASENA+ license
EXCELLENT VALUE!
Initial investment is correctly priced to deliver excellent value; your cost-benefit is optimised
POWERFUL!
Powerful data interfacing technology lowers your internal IT costs now and in the future.
IMMEDIATE RETURN!
Immediate return for users: intuitive product design ensures low training costs
ELECTRONIC REPORTING
ANTASENA+ is fully maintained as reporting requirements change. This includes the methods of computation and also the electronic submission processes to Bank Indonesia. ANTASENA+ supports all current reporting formats required by Bank Indonesia. As Bank Indonesia rolls out more reporting in newer styles, ANTASENA+ customers will receive an upgraded version of ANTASENA+ supporting those new formats.
IT'S TIME TO DO SOMETHING!
Act now to move away from inadequate regulatory solutions: call Cygnet Pericon to arrange to talk this over or to ask for your own personal presentation.