Oracle Financial Services Know Your Customer
Oracle Financial Services Know your customer (KYC) allows financial institutions to meet regulatory requirements, improves overall customer relationships, and provides cost effective measures to identify and prevent financial crimes. The application is pre-integrated with additional related and critical financial crime and compliance management solutions to offer financial institutions an end-to-end compliance management platform.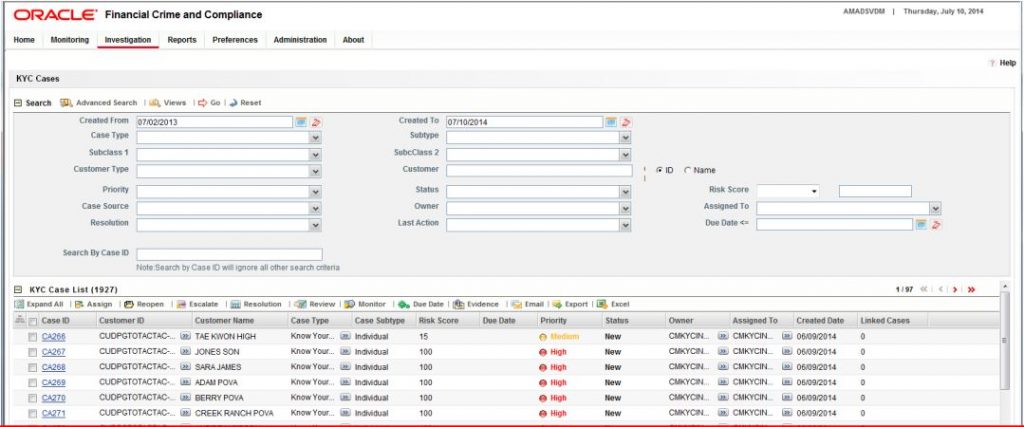 Benefits
Meet local and global AML/CFT regulatory requirements with standard risk scoring models.
Reduce the cost of compliance. Employ efficient due diligence processes and enable multi-jurisdiction, multi-country customer risk scoring using a single instance of the solution.
Improve account and customer on-boarding processes. Reduce customer risk exposure on the front lines and enhance customer relationships.
Achieve end-to-end compliance by leveraging core capabilities with Oracle Financial Services applications. Utilize standard interfaces to exchange information with third party systems.
Features
Comprehensive and extensible risk scoring function
Continuous customer monitoring for risk throughout the life of the customer relationship
Real-time and batch interfaces to integrate with other systems
An advanced, enhanced due diligence process to enable quality investigations without increasing costs
Standard integration with other Oracle Financial Services Financial Crime and Compliance Management applications