Oracle Financial Services Economic Capital Advanced
Oracle financial services economic capital is an integrated risk and capital management solution with built-in statistical modeling features for advanced risk analytics and decision support systems, empowering financial institutions with actionable risk insight.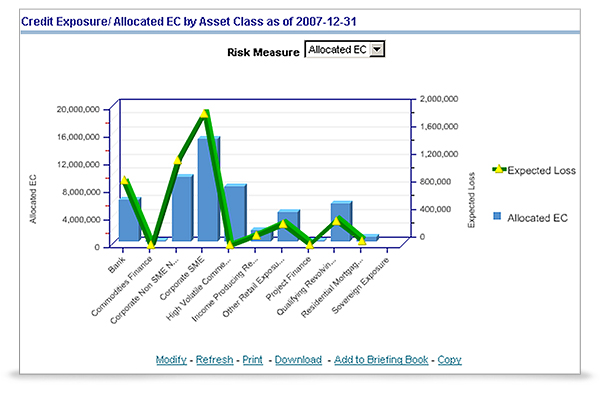 Benefits
Deploy capital across the enterprise to optimize business results and shareholder value.
Establish risk level to define risk appetite and develop business plans that are closely aligned with corporate strategies.
Improve capital management and strategic planning.
Assess risk-based adequacy of capital as calculated per Basel II and SR 99-18.
Features
Flexible and transparent risk architecture
Enterprise-wide view of risk
Preconfigured credit risk portfolio models
User-specified portfolios
Risk measure estimation at the granularity of individual exposures
Reconciliation of economic and regulatory capital
Flexible modeling framework
Ability to address multiple risk silos and asset categories