Oracle Risk Economic Capital
Oracle Insurance Operational Risk Economic Capital provides pre-configured models based on actuarial methods that enable insurers to calculate capital for operational risk. This is achieved through the computation of risk measures such as Operational Risk VaR and Conditional VaR.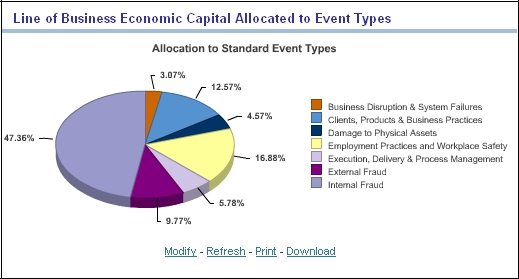 Benefits
Confidently compute capital under the full internal model approach to comply with Solvency II regulations
Understand capital consumption and operational hot spots to mitigate operational risks under various business strategies.
Save time and money with a pre-built application that is seamlessly integrated with a comprehensive suite of enterprise risk management solutions.
Features
Pre-configured operational risk economic capital estimation model
Enables compliance with full Internal model approach to regulatory capital calculation
Uses industry standard simulations, including Monte Carlo, to estimate risk and calculate capital.
Computes capital with internal loss, external loss and scenario analysis data using the Loss Distribution Approach.
Computes capital impact due to Business Environment Internal Control Factors (BEICFs) as per Solvency II accord.
Provides multiple distributions for modeling frequency and severity
Facilitates calculation of Value-at-Risk measures with full internal model approach
Factors correlation effect during risk assessment
Considers the effects of insurance, correlation and fat tail losses with an extensive parameterization facility.
Computes capital accurately with pre-packaged frequency and severity distribution models.
Allocates capital to internal business units and event types to identify and manage operational risk hot spots.